Special All in One
Dealership Marketing &
Development Package
For Only
$5,549
(Limited Offer*)
Book Your Free Consultation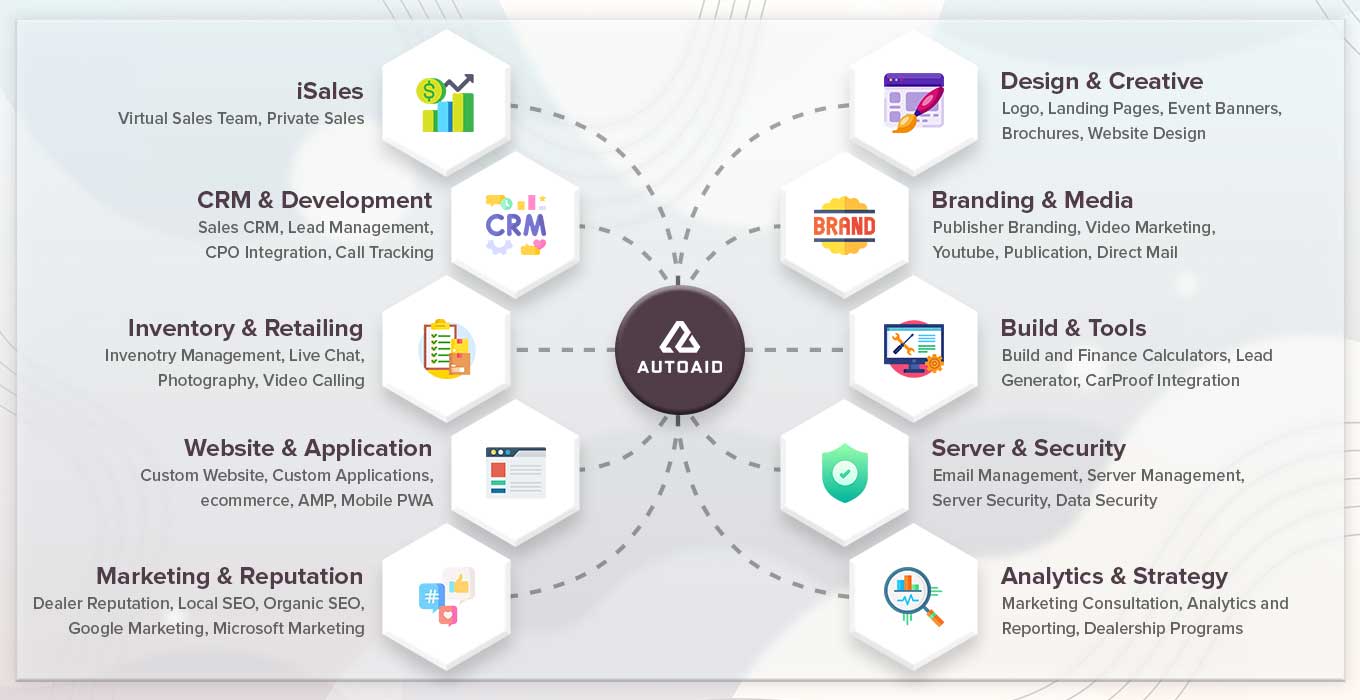 To Celebrate Our 50+ New Clients Onboarding In 3 Months With New Products-Such As iSales ( Extended Private Sales) and the All In One Google Magnet (Dynamic Store Visits and Walk-in) We Are Excited To Invite You To Discuss These New Offers For Your Dealership:
Offer Includes:
SEO organic and local marketing (250 + High-Trend Keywords)

SEM Google ads, Microsoft Ads, (50+ Campaign Types)

SMM Facebook ads, Linkedin Ads, Instagram ads,

Market Place (Daily Inventory Update)

Customized Website With Inventory Admin

Customized Mobile Application

Ecommerce & Cart Functionality

Appointment Forms Including Ai Admin

New Ai Build & Tools (Including Voice & Tracking)

Inventory Management (Unlimited New and Used Listings)

3 Media & Branding Campaigns: TikTok, Youtube, Display ads

2 Monthly News and Local Publication

25 landing pages and Creative campaigns per month

24/7 Live Chat iSales Appointment and Retailing

Ai Email Marketing

Ai SMS Marketing
Our Packages:
Digital Direct Packages
Price
Features Included
Digial Direct Packages
$995

$1,995

2000 Ringless Voicemail
2000 Customized PURL Emails

Outbound BDC
$895

$1,000

1000 Outbound BDC Appointment Calls

Digial Direct Hosted Event
$2995

$7,995

Includes all the above and an expert Event Trainer

*Add Ringless Voicemail & Emails in units of 500 for $500.
*Add Outbound BDC calling in units of 500 calls for $500.
Event Packages
Custom Invitations Quantity
Price
Features Included
Event Package 1
1,000
$4,995

$8,995

Expert BDC Call Centre
Ringless Voice mail
Event Website
Event Toll-Free Tracking #
Email Blasts (2x per event)
Post Event Lead Forwarding

Event Package 2
1,500
$5,995

$9,995

Event Package 3
2,000
$6,995

$10,995

Event Package 4
2,500
$7,995

$11,995

We encourage all TDM campaigns combine a mix of both DMS and Targeted Conquest to ensure best results and balanced campaign. We also supports mass mail if required(not targeted).
Book Your Free Demo Today!
Signing up with the above package, you will receive the Free products below:
1 Free Private Sale Quarterly Up To 2500 Targetted DMS

20 Staff Free Onboarding CRM and Ai CMS admins

50% OFF Email Server and Voice Through Google Workspace

50% OFF Live chat system with a call center to guarantee the quickest response time. We speak with leads, video call, find their interest and book them for an appointment in your dealership. Faster response times are guaranteed to grow your sales by 25-50%.

Extended Follow Up After Private, VIP and Special Event Sales

Re-Targetting your DMA including lease, finance, purchase and service clients.

Target new markets and new potential leads.

Dynamic Performance Report (sales, service, business) so you can track how the dealership is doing.

Dedicated design team to make creative for your dealership.
How we have helped clients: (average)
35% marketing and development cost reduction

30% increase in sales revenue

30% increase in lead generation

55% increase in customer satisfaction rate

65% faster deployment
Perhaps we could meet or talk on a convenient day, We would love to have the opportunity to show you more about Autoaid and iSales and how they can benefit your auto business growth.
Book Your Free Demo Today!
Offers